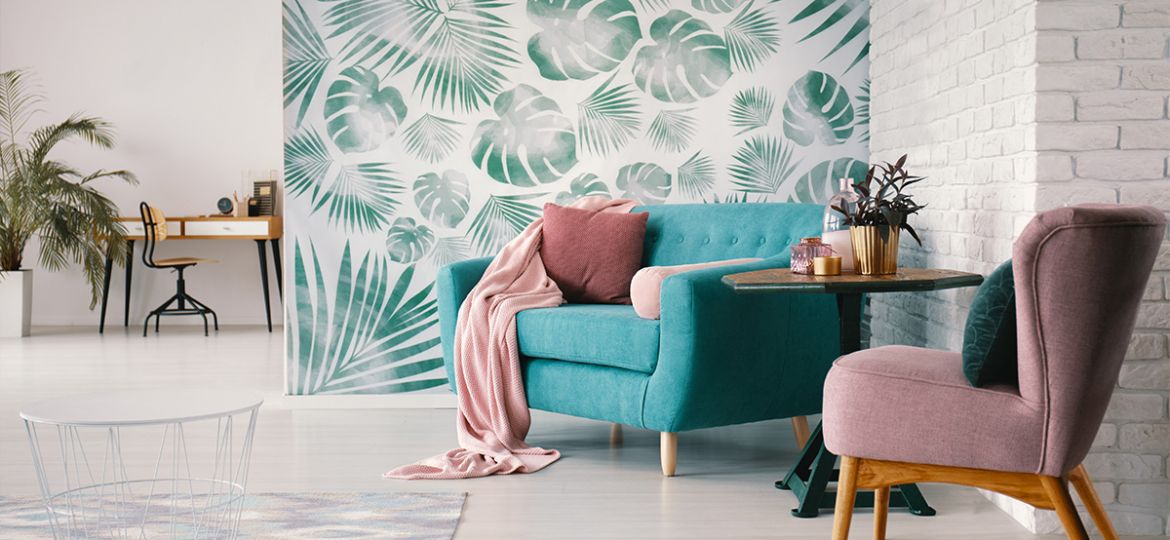 After you're done with your major renovations or are in the final stages of your new build, remember that it's the little details that tie the space together and put the finishing touches on a project.
Drapery, blinds and wall detailing can do a lot to finish and soften the ambiance in your space. With more people staying home lately, we're seeing a lot of new drapes and wall treatments popping up. Our clients are freshening up their living space because and making their homes more comfortable and enjoyable. And yes, even wallpaper is back!
Those 70's bellbottoms may be outdated, but in the world of design, one thing has come back into fashion – wallpaper, its all the rage in home interiors these days and we are loving it!
We used to see brightly coloured feature walls painted in our homes, but the latest trend is neutral colours with a wall papered feature instead.
Adding it to a smaller room adds interest without having to commit to a larger space. Creating a feature wall, adding to a fireplace design, dining room or even your ceilings to add a pop of texture and patterns will liven up your space and make it more interesting.
Window coverings are a big deal in the interior design space also, and making sure you have functionality as well as softness and colour will really give your home or office warmth and texture. The most popular blinds we are seeing is the honeycomb style because they are the most energy efficient. We find that our Hunter Douglas and Shade-O-Matic brands of top-down and bottom-up styles are a popular favourite amongst our clients. When choosing your colours, we tend to coordinate with the colour of your trim or your walls and keep it neutral.
Getting your new wall and window treatments is an extremely easy process at NuWay Floors and Interiors. We start with a free in-home or in-store consultation appointment, then we measure the space and send our in-house contractors off to do your installations.
Visit our showroom to see the wide variety of wall paper shade, and fabric options we offer to use in all spaces of your home. Our designers can help you choose the right space, the right colour and texture to fit your personal taste and style.